We get it. Through no fault of your own, life has felt tough and no matter what you do, you feel stuck.
---
Stuck at home, stuck in your practice, and stuck not knowing how you can make a difference once the dust finally settles. To make things worse the journey you're on feels like one you've had to shoulder all alone.
You love your yoga practice but you feel like you're just skimming the surface. You feel that there is more to learn, better ways to enrich your practice, and maybe you feel the call to share the magic of yoga with others. You're missing being with a community you didn't know you even had - one that sees you, one that supports you, and one that shows you that you are not alone.
1
Illuminate the Path
Illuminate the path forward on your yoga journey as a curious student looking to enrich your practice or as an inspired teacher finding your voice on a new adventure.
2
Create and Learn
Create and learn from a large brush stroke introduction to different facets of yoga with the support of three independent yoga teachers with over 60 years of combined experience.
3
Deepen and Understand
Use the craft of teaching yoga as a vehicle to deepen and understand your relationship to your practice and your relationship to the world that is ever-changing around you.
We believe that yoga is for everybody.
---
The more people that practice and teach yoga the better. We believe it is important to carve out space specifically for BIPOC folx in an industry that has historically catered its message toward a white and elite audience.
We are here to say we insist on having your voice heard and helping to cultivate a yoga culture where BIPOC teachers are more fully represented. To that end we are reserving 5 spaces for BIPOC folx at 50% off the training investment.
If you are interested in securing one of these scholarships please click here.
Introducing...
Yoga School Collaborative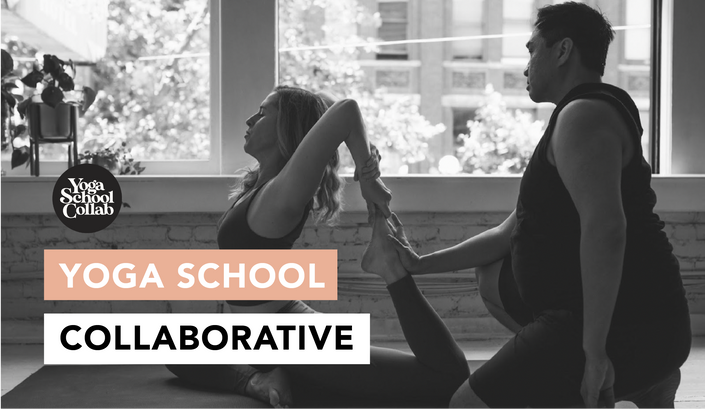 Location: Online
March 1st 2021 - May 20th 2021
Group Structured Time: 108 Hours
Virtual Asana Classes: 60 Hours or 5/wk
Independent Study: 32 Hours
Early Bird: $1850
Standard Pricing: $2000
Early bird pricing running until
2/1/21
This 12 week program is a global teacher training,
all students and experience levels are welcome.
"I couldn't possibly tell you how many classes I have taken with Anna, but I can attest that they are indisputably the most heart filling and soul settling classes I have taken from anyone else.
For the past ten years I have taken classes with Anna and I continue to be inspired by her commitment not only to herself and her practice, but also to the way she is constantly curious on ways to grow and evolve as an instructor. No two classes ever feel the same and I think that is in large part because Anna is so authentically herself to her students. That honestly gives me, as her student, the confidence to be my most authentic self as well.
Anna can simultaneously be leading a class and in any given moment be challenging us physically, comforting us emotionally, or cracking us up and getting us totally out of our heads. Humor and truth radiate off her precious soul and those lucky enough to share the experience of her classes will undoubtedly agree."
---
Sissy Cross
"Of all of the yoga instructors that I am lucky enough to know, only a select few have approached their teaching as holistically and passionately as Kai, putting countless hours into continuing education and self study.
As a result, Kai's teaching is thoughtful, consistent, beautifully sequenced, and well informed. I constantly feel both safe and inspired in Kai's classroom. His teaching is intentional, uplifting and truly heart-felt; I cannot think of a better instructor to complete a teacher training with."
---
Sara Rice
"I completed the 200 hour yoga teacher training with Sarah in the spring of 2019.
What I received was much more than just "yoga" teacher training. I received lessons about communicating with others...being clear with my instructions if I'm leading a group...listening to others. Listening not just with ears but with my eyes and heart. What I realized is that the lessons I've learned in this course are making me a better art teacher, friend, and mother. This course would be valuable to anyone in any profession. It made me grow as a person. I learned to stand in front of a group of people (my fellow training students... who I grew to love) and communicate an idea and instructions in clear precise words, because they are holding poses and they can't wait for me to figure out my words or be unclear or wishy washy. I learned lessons in clear thinking and precise language.
The lessons and the fruits of this class are paying off in my life and career. I would tell anyone in any profession to take this course for themselves to grow and even if they don't want to teach yoga, the lesson will be invaluable for life, family and career."
---
Judith Bigham
Frequently Asked
Questions
Don't see your question here? Ask us at

[email protected]

.
The course begins on March 1st, 2021 with a live Zoom call. The training consists of some live and some recorded content. Each Zoom call will be recorded in case you miss it or you would like to review. Take your time and complete the course at your own pace.
You will receive access to the course for one year from the start date.
Please contact us with any questions prior to purchase, as online classes are non-refundable. In exceptional circumstances, a partial refund is available up to two weeks from the start date of the program. After that date, no refunds are available.
Yes. Internet access to the course and a willingness to trust the process.
Absolutely not! We certainly cannot do every pose either. In this training you will learn how to comprehend and communicate complex postures. You will understand the why behind the postures and be able to discern when and why one might practice them.
Yes, there are 3 books required. All are easy to acquire online or at your local bookstore.
Yes, upon completion of the Yoga School Collab online course you will receive a certificate you may submit for a 200hr Registered Yoga Teacher Certification.